As per the title:
1 set of Abbott green lowering springs, powdercoat is fairly ropey but the springs are still perfectly usable. £50 posted to UK mainland.
1 x Abbott strut brace. The strut brackets are losing their powdercoat and have bent up at the edges a little as they all seem to do but again, a perfectly useable item perhaps with a lick of paint as it's on show. SOLD
1 set of unknown 17" 5 spoke wheels to fit 9000. Need a refurb as the paint is coming off in places and has bubbled in the centre near the bolt holes. They have Toyo Proxes T1R's fitted, 2 of which have a decent amount of tread (4 to 5 mm) and 2 of which are just legal but are worn more on the edges. I can email more images on request. SOLD.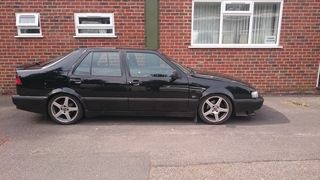 Forgot to say, tyres are likely quite old but don't seem to have any signs of cracks. I used them for a while and they seemed ok but would be your call to use them or not - as with all used tyres.